Seward County Fire Work Highway 83 Fires
Joe Denoyer - September 3, 2021 11:11 am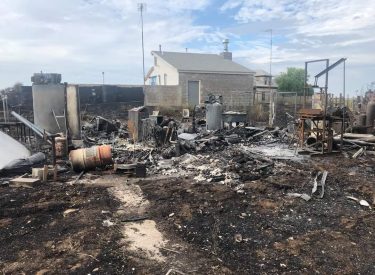 On September 1, 2021 at 2:30 pm Seward County Fire Department along with Seward County Sheriff's Office was dispatched to a tree row fire on Highway 83 at mile marker 14 in Northern Seward County. Units arrived on scene to find a vegetation fire into trees and endangering numerous structures in the immediate area. Seward County Sheriff Deputies started an immediate evacuation of residents in the area.
Fire Units arrived on scene and began fire attack along tree row in attempts to protect the residence in immediate threat from the fire, as additional units arrived they encountered hindered access to the South side of the fire. Local Farmers arrived on the scene with Water truck, a water trailer, and Tractor and disc and extinguished the vegetation fire that was moving north, while firefighters worked the area of most condensed structures.
Mutual Aid Request to Haskell County Fire Departments and Stevens County Fire Department was made for additional resources due to the extreme amount of debris that was involved as well as structures threatened. A storage shed, a vacant mobile home used for storage, several vehicles, and a mobile home was destroyed by fire. Dollar loss is estimated to be around $100,000.00 with approximately six acres of vegetation.
Several power poles were affected by the fire and a crew from CMS Electric responded to the scene and disconnected power to the area to allow firefighters to work safely preforming salvage, overhaul, and mop up of hot spots. Power was restored to unaffected areas when it was safe to do.  Kansas State Fire Marshal Office Fire Investigator was requested and is currently handling the investigation of the fire.
Two residents were displaced as a result of the fire, and both have been staying with family members. Firefighters worked through the evening to secure the incident scene and assist with property recovery from a mobile home for a resident. No injuries were reported.
The department responded with 1 chief officer, 3 fire engines, 3 water tenders, and 7 firefighters. The department also received additional resources from Stevens County and Haskell County Fire Departments. The department was also assisted by Local Farmers, Seward County Sheriff's Office, Haskell County Sheriff's Office, Kansas Highway Patrol and CMS Electric. The cause of the fire is under investigation.