Seward County Fire Busy on Monday March 1st
Joe Denoyer - March 2, 2021 9:34 am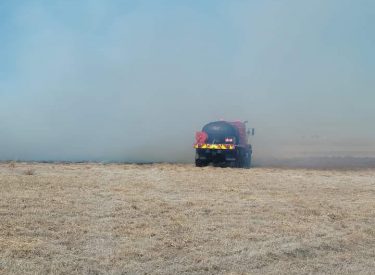 On Monday, March 1st, at 2:30pm Seward County Fire Department was dispatched to Hwy 83 and Road 11 for a vegetation fire. As units arrived on scene to find one acre of natural vegetation with a slow rate of spread. Units made a initial attack and contained the fire. At this time dispatch advised of a vegetation fire at Hwy 83 and Road 20 and another at Hwy 83 and Hwy 190.
One unit and one water tender remained on scene at Road 11 as additional units responded North. Haskell County was requested for assistance to respond to Hwy 83 and Hwy 190.
Units arrived in the area to find one vegetation fire about one acre with a slow rate of spread, fire was quickly extinguished with assistance from Sublette Fire Department.
Both fires are roadside starts, and are undetermined in nature. The department responded with 2 chief officers, 4 attack trucks, 2 water tenders, and 7 firefighters. Assisted by Seward County Sheriff's Office and Sublette Fire Department.