Seward County Dominates Final ITA Fall Rankings
Joe Denoyer - November 30, 2018 12:18 pm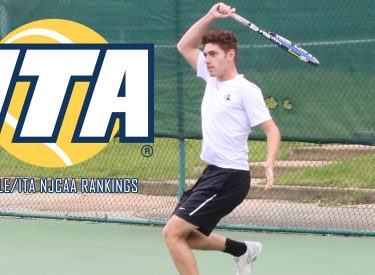 TEMPE, Ariz. – The final fall individual rankings for the Seward County tennis programs were released by the Intercollegiate Tennis Association (ITA). The rankings saw the Saints hold the No. 1 ranked singles and doubles team, while four more players ranked in the top 50 for singles and two more doubles teams ranked in the top 25.  On the women's side, three Lady Saints found themselves in the top 25, while also holding the No. 5 ranked doubles team.
It's no surprise to see ITA National Champion and All-American Nicolas Rousset hold the No. 1 spot in the ITA Singles Rankings.  Sophomore's Hugo Lobo (8) and Carlo Izurieta (34) both found their way into the top 50 for a second straight year, while freshmen Sander Jans (18) and Francisco Vargas (21) are ranked for the first time in their careers.
In doubles play, ITA National Champions and All-Americans Sander Jans and Gabrielle Nery are at the top of the rankings. Hugo Lobo and Nicolas Rousset are ranked fourth, while Carlo Izurieta and Francisco Vargas came in at No. 20.
Two Lady Saints represent Seward in the top 10 in singles play, as sophomores Patricia Panta (6) and Maria Aveiga (7) are the two highest ranked KJCCC players.  Alena Macharova rounds out the singles rankings for the Lady Saints, coming in at No. 24.
The doubles team of Maria Aveiga and Patricia Panta is the lone Seward tandem to be ranked, coming in a No. 5 in the country.
Seward County will look to continue the success they had in the fall as they head into their spring season. Their spring season will start Monday, February 4th when they travel to Colorado Springs to take on the Air Force Academy.