Seward County Commission Grants Waiver Request
Joe Denoyer - February 1, 2021 10:24 pm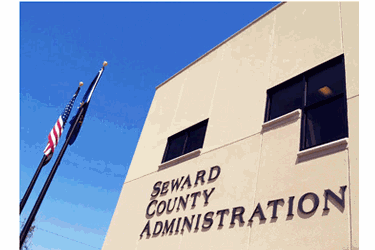 The Seward County Commission met Monday evening and approved a request from Wil Hatcher with Hatcher Agcore for a waiver for occupancy and use of County Activity Center for business meetings with farmers regarding maximizing farm profits in today's market. The exemption was granted as the occupancy size is under the allowed exemptions and to allow use of the Seward County Activity Center for this meeting as it falls under the Agriculture exemption.
Commissioners also approved the authorizing the offering for sale of general obligation hospital refunding bonds of Seward County, Kansas.  By doing this, it will save over $2 million dollars as interest rates are low at this time.
The Commission will once again visit the roofing projects of county owned buildings at their next meeting as they await more information  and approved  the purchase of the second year subscription of KnowBe4 security software.
For the Rural Fire Department the Commission accepted Chrysler Corner's bid of $76,762.00 for 2 pickups to be used by Seward County Fire dept.
The Seward County Commission agreed to a contract between Seward County and Nathan Foreman, Legal Counselor at a rate of $200/hour. At the last meeting Mr. Forman informed the Commission that he would be re-entering private practice, but would continue to work for the County on a contractual basis.
The parking lot at the 2nd Street Health Department was also discussed by the Commission as there has been was interest in purchasing the location. The Commission approved to seek bids on the space.
Further discussion was also held on the Seward County Fire Station location. The Commissioners also  scheduled the next meeting for Tuesday, February 16, due to Presidents Day Holiday.