Seward Cools Off Red Hot Grizzlies
Brock Kappelmann - October 7, 2016 6:32 am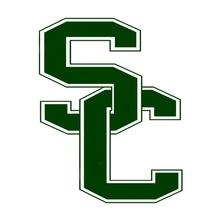 Going into Wednesday's matchup, the Seward County Lady Saints and Butler Grizzlies were headed in different directions. Seward had hit a slow patch of late, losing four of five, while Butler had rolled off a stretch of nine wins in ten outings. That all changed in Towanda's Circle High School as the Lady Saints came out ready to go, hammering the Grizzlies 3-0 in a 25-16, 25-21, 25-19 victory to keep pace at the top of the Jayhawk West standings at 8-2.
The Lady Saints got off to a good start Wednesday, jumping out to a 4-1 lead on the Grizzlies, but Butler quickly bounced back, knotting the score at 11 midway through on back to back Seward attack errors. A 3-0 run for the Lady Saints at the midway point gave them back a three point cushion and this time they wouldn't relinquish it. An ace from Giovanna Kuntze stretched their lead to four and kills from Kaysie Paxton, Maritza Mesa, and Briana Domino made it a 20-13 game in favor of the gals in green. Seward put it on cruise control from there, getting another kill from Domino late and then an ace from Mesa to seal the deal as they closed out a 25-16 win to take a 1-0 lead in the match.
Seward again jumped out to a 4-1 lead in the second, highlighted by an early block from Mesa and Belissa Guidotti and then another combo rejection by Mesa and Domino. The Lady Saints continued to lead comfortably through the middle portion of the set, pushing their lead to five midway through at 11-6. Butler closed the gap to two on a 3-0 run, but a kill from Paxton put the Lady Saints right back in business and before the Grizzlies knew what hit them, the Seward lead ballooned back to six at 18-12. The push from Seward was too much for the Grizzlies to handle as the Lady Saints again caught the wind and sailed to the finish line, securing a 25-21 victory on another Paxton kill to take a commanding 2-0 lead in the match.
Lady Saints Coach Thais Baziquetto-Allen switched up her lineup in the third set, but had similar results with her reserves. A pair of Paxton kills and a block from Paxton and Briana Williams staked the Lady Saints out to a 10-7 lead to begin the set. After a Butler sideout, Mesa connected on three straight kills, extending the Lady Saints lead to five at 13-8. Seward continued to hammer away at the Grizzly defense and Butler had no answer as Paxton and Mesa piled up kills on the pegs and Mariana Nascimento picked up a kill in the middle to push the Lady Saints lead all the way to 21-13. Butler made a small push late in the set, but it was far too little too late as the Lady Saints closed them out 25-19 to sweep the match 3-0.
Mesa led the Lady Saints with another big evening, smashing home 15 kills and picking up nine digs and four blocks in the victory. Paxton finished with 10 kills for Seward while Nascimento had six with just one hitting error. Kuntze dished out a match high 33 assists in the win while also scooping up a career high 16 digs for her fifth career double-double. Eight different Seward players were in on eight blocks in the match, led by Mesa with four and Nascimento and Guidotti who each had three.
The Lady Saints improve to 17-9 on the year with the win, boosting their Jayhawk West record to 8-2 where they remain ½ game back of Colby for the league's top spot. Butler loses for just the second time in 11 matches to drop to 13-8 overall and 3-7 in West play on the year.
Seward will take a deep breath with their first off weekend of the 2016 season this weekend before returning to the court next Wednesday where they will take on Pratt in the Greenhouse at 6:30.
SEWARD COUNTY/BUTLER BOX SCORE<http://www.sewardsaints.com/sports/wvball/2016-17/boxscores/20161005_n1fu.xml>
Roy Allen