Seward Conquers the Conquistadors
Brock Kappelmann - September 13, 2018 6:06 am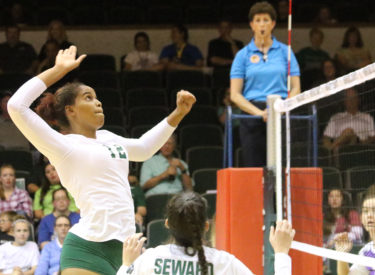 LIBERAL, Kan. – The No. 10 Seward County Lady Saints rolled to a sweep over the Dodge City Conquistadors inside the Greenhouse Wednesday night, winning 25-9, 25-14, 25-20. The win pushed Seward's Jayhawk win streak to 27 games, with 19 of the wins come from a sweep.
The Lady Saints came out firing in the first set, connecting on 17 of their 21 attempts. Following a service error to start the set, Seward went on a 10-0 run with Djuly Schmorantz serving. The Conquistadors stopped the run with a block, but Seward continued to pound the ball, finishing on a 15-7 run to win the first set 25-9. Tapanga Johnson, Giovanna Tapigliani and Schmorantz combined for 13 of the 25 points in the set, while Luz Sierra added three more.
The second set had a familiar feeling to begin as the Lady Saints jumped out to a 5-1 lead, all while Schmorantz was serving. Dodge City quickly closed the gap however, going on a 7-4 run to cut the lead to two points. Seward tightened up, starting with a Tapigliani kill to finish the set just as they did set one, on a 15-7 run to take a two-set advantage.
The final set of the match was the closest as the Lady Saints struggled with hitting and service errors. Of the 20 points scored for the Conquistadors, 16 came off Seward errors. Holding a two-point lead late in the set, head coach Tony Trifinov called a timeout, helping re-energize the Lady Saints as they finished on a 6-3 run to take the set 25-20 and the match three sets to none.
The Lady Saints hit just under their season best, connecting on 57.9 percent of their attacks. Schmorantz, Tapigliani and Sierra led the Lady Saints efficient efforts, as they hit .500, .727 and .588 respectively.
The three also led Seward in kills, as Schmorantz and Tapigliani both reached 10 kills, while Sierra came two shy with eight. Defensively, Nathiellen Machado led the Lady Saints with 12 digs, while Schmorantz came three digs short of her third double-double on the season. Freshman Dorianne Lebron stepped in, making her first career-start and finished with three blocks.
Seward will hit the road this weekend, as they travel to Las Vegas for the Lady Coyote Volleyball Invitational at the College of Southern Nevada. They will take on (RV) Yavapai and No. 4 Salt Lake on Friday (Sep. 14) before finishing the weekend with Chandler-Gilbert and Southern Nevada.
[Email Signature]