Seward Clobbers Cloud for Tournament Win
Brock Kappelmann - May 15, 2021 7:15 am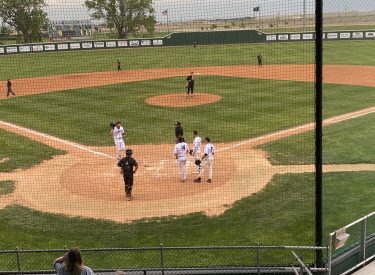 The Seward County baseball season lives on.  The Saints left no doubt in a 24-10 win over the Cloud Thunderbirds Friday night at Brent Gould Field.  The win moves the Saints to Saturday and a 2 pm match up against the loser of Neosho and Kansas City.
In the first, KP Werner and Wyatt Grant singled.  Braden Boisvert lined a sac fly to right center.  In a seven run second, George Gallardo and Richard Armijo singled with one out.  Cantu singled home a run.  Kase Johnson singled home a run.  Wyatt Grant singled home two runs.  Boisvert blasted a three run homer over the wall in right center.  Seward led 8-0 after two.  The Thunderbirds scored two in the third to make it 8-2.  Seward scored five in the third.  Richard Armijo singled to lead off the inning.  Jon Cantu walked.  KP Werner doubled home a run.  Kase Johnson singled home two.  AJ Folds blasted a two run homer to right for the 13-2 lead.  The T-Birds scored three in the fifth to make it 13-5.  Seward answered with four.  With one out, Wyatt Grant and Braden Boisvert singled.  AJ Folds walked.  George Gallardo walked with the bases loaded.  Richard Armijo ripped a three RBI double to left center for a 17-5 lead.  Seward had one bad inning, and it was the sixth.  Seward did not play well defensively in the inning and walked two and beaned two in the inning as Cloud scored five to make it 17-10.  Cloud pitching fell apart in the sixth walking three and beaning two.  One beanball and one walk came with the bases loaded.  Richard Armijo singled home a run.  Jon Cantu doubled home three runs to right.  Werner singled home a 24th run.
Seward is 26-24 and Cloud loses their eighth straight and finishes 28-24.   Because Neosho beat SCCC 10-7 and Kansas City knocked off Cloud 16-9, the Panthers and Blue Devils play at 11 at Brent Gould Field.  The loser plays the Saints at about 2 on 1270 and kscbnews.net.  The scheduled times have been moved up due to the forecast of possible severe weather in Liberal later on Saturday.