Seward Buries Barton on Dig Pink Night
Brock Kappelmann - October 21, 2019 6:33 am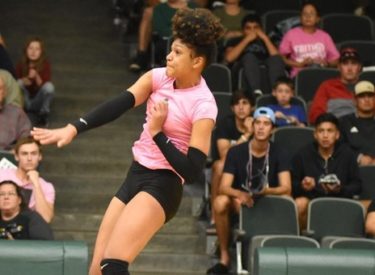 LIBERAL, Kan. – The third-ranked Seward County Community College volleyball team continued its dominance in the Jayhawk Conference with a victory in straight sets over Barton Community College on Saturday at the Greenhouse.
The Lady Saints knocked off the Cougars, 25-17, 25-13 and 25-16 to post their 52nd straight conference win and extend their overall winning streak to 14 games. Seward improved to 22-2 overall and remained in first place and undefeated in conference play at 13-0.
The Lady Saints never trailed in the opening set, but could not pull away from the Cougars as the teams were tied eight times early on. After Barton knotted the score at 13, Seward finally went on a 6-0 run to take a 19-13 advantage and never looked back the rest of the way.
The Cougars kept it close in the second set and pulled to within one at 6-5 before the Lady Saints opened a 14-9 lead and eventually a 22-11 margin to salt away the win.
Seward started off fast in the third set with a quick 4-0 burst before Barton battled back once again. The Cougars drew to within 12-11 before the Lady Saints put it into gear and ended the game on a 13-5 spurt for the win and making the Seward faithful happy on "Dig Pink" night.
Yanlis Feliz had 21 kills, Mesalina Severino had eight blocks and seven kills, Laura De Pra added 40 assists and Grecia Soriano and Ariana Arciniega had 10 digs each to pace Seward in the match.
The Lady Saints donned their pink uniforms for their annual "Dig Pink" night. It was an opportunity to bring awareness and education for breast cancer awareness. Donations were solicited for breast cancer research during the game.
Seward hosts Garden City Community College in its final regular season home game at 6:30 p.m. on Monday at the Greenhouse.