Seward Breezes by Barton
Brock Kappelmann - October 2, 2021 9:34 pm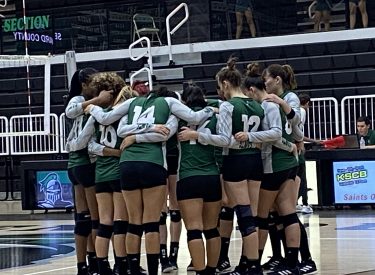 Kenny Hernandez
LIBERAL, Kan. – Seward County Community College volleyball program defeats Barton Community College in straight sets on Saturday night in the Greenhouse. The Lady Saints won with the final set scores 25-17, 25-17, and 25-13 to improve to 14-4 on the season, and 7-2 in conference play to gain sole possession of second place in the conference. Seward County will be back in action Monday night to take on Garden City Community College at 6:30 PM in Liberal.
To start the match the Lady Saints looked comfortable and jumped out to an early lead. Barton took a time out as Seward County jumped to an early 11-7 advantage. Seward County continued to separate themselves in the first set as they won 25-17 over the Cougars.
In the second set, Barton took their first lead of the match with an 11-7 advantage over Seward County. After a time out by Head Coach Geno Frugoli the Lady Saints went on a 7-1 run to take the lead 14-12 over the Cougars. Seward County closed out the match with three straight points including an ace for Jessica Sales to win the set 25-17 over Barton.
For the third set, Seward County once again took an early 6-2 lead over Barton and the Lady Saints never looked back. After a net violation by the Cougars, the Lady Saints had a 20-10 lead. Seward County finished off the match with a kill by Skylar Wyllie to win the third set 25-13.
The Lady Saints will be back in the Greenhouse on Monday to face off against the Broncbusters at 6:30 PM.