Seward Basketball Announces 2nd Annual Tip Off Dinner
Joe Denoyer - August 27, 2018 4:03 pm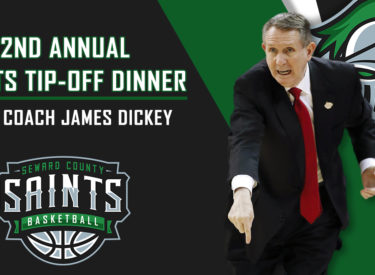 LIBERAL, Kan. – For the second straight year, the Seward County basketball programs will hold the Saints Tip-Off Dinner. This monumental event will take place on Saturday, October 27th and will feature special guest, former Texas Tech head coach James Dickey.
While last year's event featured just the men's team, this year will provide the opportunity for fans to meet the 2018-19 Saints and Lady Saints basketball teams for the first time. There will be player introductions, highlight videos and head coaches Jason Sautter and Austin Mefford will speak to the crowd about their upcoming seasons.
To go along with a formal, buffet-style dinner, will be a silent and live auction. The live auction will feature memorabilia and tickets from local NBA, MLB and NFL teams.
There will be three levels of experiences for this event – the All-American Experience, All-Region Experience, and All-Conference Experience. The All-Conference Experience will start at $100.
Coach James Dickey has nearly four decades of coaching experience, including 14 years as a head coach at the Division I level, where he won over 225 games. He coached at the likes of Arkansas, Kentucky, Texas Tech, Houston and Oklahoma State. Dickey's best season came in 1995-96 when he led the Rad Raiders of Texas Tech to a 30-2 record to win the Southwest Conference en route to a NCAA Sweet Sixteen berth. He most recently was an assistant at Oklahoma State University from 2014-16. Over the course of his career, Dickey coached more than 20 players who played in the NBA including Tony Battie, Tony Allen and James Anderson. Dickey competed in 12 NCAA Tournaments and earned six conference and district Coach of the Year awards.
The event will begin at 6:00 p.m. with a social with Coach Dickey and the salient auction, followed by the program and dinner at 6:45 p.m. To register for this even, please contact Jason Sautter at 620-417-1557 or Austin Mefford at 620-417-1559.