Seward Baseball Takes Two in Home Opener
Joe Denoyer - March 3, 2019 9:55 pm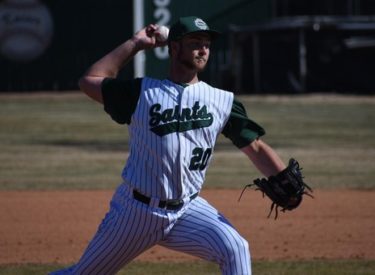 LIBERAL, Kan. – The Seward County Community College baseball team dominated Redlands Community College with strong pitching and timely hitting in a doubleheader sweep, 4-1 and 12-1, in the home opener on Friday at Brent Gould Field. The Saints improved to 7-6 on the season.

GAME ONE

Cole Evans (1-0) allowed one run on four hits, struck out 10 and walked one over six innings to pick up his first win of the season in the opener. Ryan Thomas struck out a pair and walked one in a scoreless seventh to finish the game.

Cruz Shope went 2-for-3 with an RBI and Austin Folds drove in a run while Ben Tsui, Richard Armijo, and Jose Caraballo each added a hit for the Saints.

Seward took a 2-0 lead in the bottom of the first when a Redlands error allowed two runs to score.

Evans found himself in a jam in the second inning. With one out, Redlands managed a double, a walk and a single to load the bases. Evans struck out Joshua Cobb for the second out, but Zane Green followed with an RBI single to cut the lead to 2-1. Redlands would not manage another baserunner against Evans, who retired the final 13 batters he faced before Thomas relieved.

The Saints added two more runs in the bottom of the second on Shope's run-scoring single and an RBI double by Folds to make it 4-1.

GAME TWO

Jordan Kennedy and KP Werner drove in a pair of runs and Ben Tsui and Ben Roach each added two hits to lead the Saints in a run-rule victory in the nightcap.

Ryan Giberson allowed one run on four hits, struck out five and walked two over six innings to improve to 1-2. Steven Craddock ended the game with a perfect seventh inning.

The lone mark against Giberson came in the third inning when he battled his control. Giberson issued two walks and hit a batter to load the bases. A ground out scored Redlands' only run of the contest.

After jumping out to a 4-0 lead in the second inning thanks to defensive lapses by Redlands, the Saints would tack on eight more runs to open a 12-1 lead through five innings.

Seward will play Clarendon College for a single, nine-inning contest at 3 p.m. on Tuesday at Brent Gould Field.