Seventh Win not Quite Heaven for Redskins
Brock Kappelmann - October 20, 2023 11:12 pm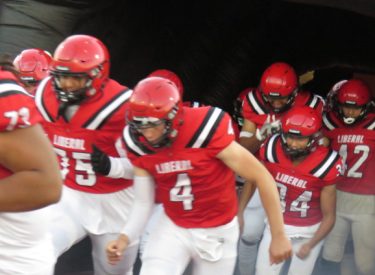 The Liberal Redskins sent out their seniors with a 57-37 win over the visiting Ulysses Tigers Friday night at the Gary Cornelsen Sports Complex.  Liberal limped to the finish line after building a 30-0 lead and saw Ulysses out score the Skins 30-27 in the second half.  It's Liberal's most wins since going 8-3 in 2004 and 7-1 is their best record since the 2003 season when.  Brooks Kappelmann threw four touchdown passes and rushed for a score in the win.
Ulysses quarterback Aden Alvarado stepped on the white paint in the back of the end zone for a safety and a 2-0 Redskin lead with 6:29 to play in the first.  Brooks Kappelmann hooked up with James Fieser over the center of the end zone for an 18 yard score to give the Redskins a 9-0 lead after the Marco Alonso point after.  Brooks Kappelmann lofted a 70 yard touchdown pass to Zayden Martinez for a 16-0 lead after the point after with 1:25 to play.  LHS led 16-0 after one quarter.  An Alex Schwindt one yard score made it 23-0.  Marco Alonso blocked a UHS punt.  Liberal used the short field for a Brooks Kappelmann 14 yard touchdown pass to Adan Mata with 1:57 to play in the first half.  The point after made it 30-0 LHS.  Ulysses cracked the scoreboard when Aden Alvarado connected on a nine yard touchdown pass to Carmelo Orosco with 19 seconds remaining in the half.  It was 30-7 LHS at the half.  The Redskins scored first in the second half as Brooks Kappelmann lofted a 32 yard touchdown pass to James Fieser to make it 37-7 with 8:06 to play in the third.  Caden Alvarado's 12 yard TD run with 4:04 to play made it 37-13.  Adan Schwindt's 12 yard touchdown run made it 44-13 right before the end of the third quarter.  Caden Alvarado ripped off q 60 yard TD run to make it 44-21 with 11:06 to play.  Ivan Moreno's two yard TD with 10:18 to play made it 51-21.  Carmelo Orosco's six yard TD made it 51-29 after the two point conversion with 6:23 remaining.  A Brooks Kappelmann TD run from four yards out made it 57-29.  The Tigers tacked on a touchdown when Aden Alvarado tossed a TD to Julian Meraz from 21 yards out with 13 seconds remaining.  The two point conversion made it 57-37.  Ulysses out scored Liberal 24-13 in the fourth quarter.
Liberal amassed 521 yards with 270 passing yards and 251 rushing yards.  The Redskins remained balanced with four passing touchdowns and four rushing touchdowns.  Brooks Kappelmann was Epic Touch Player of the Game going 12-22 passing with 270 yards, four touchdowns, and no interceptions.  He had nine rushes  for 93 yards and a touchdown.  Ivan Moreno had 12 carries for 89 yards and a score. Xavier Tafoya had eight tackles and one tackle for loss.  Landon Martinez had seven tackles.  Ulysses amassed 405 yards with 325 rushing yards.  UHS signal caller Aden Alvarado has 28 carries for 221 yards.
It's Liberal's first win at home over Ulysses since 2010.  Liberal is 7-1 and Ulysses is 0-8.  Preliminary projections are that Liberal is the three seed and will host 3-5 Newton Friday night at 7pm at Redskin Field on 1270 and 92.3.  It would mark Liberal's first game against the Railroaders since 2009 and first in Liberal since 2008.