Seven Saints Score in Double Figures in Win
KSCB News - December 9, 2013 6:40 am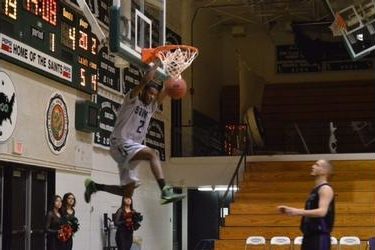 The Seward County Saints are back to .500 after a 111-79 win over Kingdom Prep Saturday night in the Green House. Seven Saints scored in double digits as the Saints shot 55 percent from the field and held the Kings from Des Moines, Iowa to 37 percent shooting.
Secean Johnson led Seward with 19 points and 10 rebounds while Brian Bridgeforth had 18 points and eight rebounds. Kevin Smith added 13 while Quentin Purtue had 11 points and 10 rebounds. Malcolm Hill-Bey had 11. Tyreke Sharp and Raoul Mentor had 10 a piece.
The Saints are 6-6 and winning both games of the Pizza Hut Classic. Kingdom Prep is 3-11 and had kicked four players off their team since Seward beat them 72-57 November 11 in Garden City.
The Saints play God's Academy Friday at 3:30 in Garden City on 1270 and kscbnews.net.