Seven Lady Saints Named All Conference
KSCB News - May 6, 2014 2:33 pm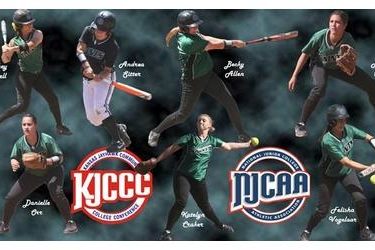 Days after their 2014 season concluded with a 47-13 showing, seven Seward County Lady Saints were honored by the KJCCC and the NJCAA Tuesday as recipients of All-Jayhawk West and All-Region VI awards.
Leading the pack for the Lady Saints on the All-Conference/All-Region teams was sophomore 1st Baseman Becky Allen who not only was named to the 1st Team, but was also named the league's Most Valuable Player. Allen was nothing short of spectacular for the Lady Saints this season, finishing the team leader in batting average (.443), doubles (26), home runs (9), and RBI's (68). Allen's 26 doubles led all players in the Jayhawk West as did her 68 RBI's in 2014. Her 26 doubles were also good for 2nd nationally and tied the Seward County all-time record for doubles in a season. Allen finishes her Seward County career in the top 10 in a number of different all-time statistical categories. Her 149 hits rank 6th, 38 doubles are 2nd best, 18 home runs rank 3rd, and 114 career RBI's are 3rd most. Allen's Jayhawk West MVP award marks the first for a Lady Saint since the 2010 season when pitcher Erin Roufosse won the award.
Joining Allen on the 1st Team list was the left side of the Seward infield. Sophomore Marissa Chavez garnered 1st Team honors at shortstop while freshman Danielle Orr was a 1st Team selection at 3rd base. Chavez started all 60 Seward games at shortstop for the Lady Saints, hitting .354 with 15 doubles, 4 home runs, and 55 RBI's. Chavez had hits in 45 different games this season and had 17 multi-hit and 16 multi-RBI games on the year. Her 145 career hits as a Lady Saint rank 7th right behind Allen and her 30 doubles are 5th most all-time. Orr also started every game at 3rd base for Seward during her rookie campaign. She hit .340 with 14 doubles, 8 home runs, and 49 RBI's and was one of the top defensive third basemen in the country this season. Orr raised her game to another level during Jayhawk West play this season, hitting .414 and driving in 16 in 16 conference games.
Leading four Lady Saints on the 2nd Team All-Conference/All-Region VI team was sophomore outfielder Andrea Sitter. Sitter was a sparkplug for Seward both offensively and defensively this season, starting all 60 games as the Lady Saints centerfielder. She was second on the team with a .436 average in her only season in Liberal and led the Lady Saints in both hits with 96 and stolen bases with 38. Her 96 hits were second most in a single season in school history while her 38 swipes were also second most all-time.
Freshman Pokey Ewell joins Sitter on the 2nd Team in the outfield. Ewell had a solid freshman season for the Lady Saints, hitting .359 overall with 19 doubles and 52 RBI's. Ewell hit .406 in 16 conference games this season and drove in 23 in league contests. She had at least 1 hit in all 16 Jayhawk West games which was in the middle of her team long 21 game hit streak in 2014.
Lady Saint ace Katelyn Craker was another 2nd Team pick for Seward. The sophomore lefthander had an outstanding year in the circle for Seward, finishing the season with a 22-6 record and a 2.78 ERA in 181 innings pitched. Her 22 wins were second most in the Jayhawk West this season and were good for 10th most in the country. Craker struck out 154 opposing hitters this season which ranked in the top 25 nationally and was second among Jayhawk West hurlers. Craker's .785 winning percentage this season was 4th best in school history and her 22 wins rank 7th.
Sophomore Felisha Vogelaar was the league's 2nd Team selection at 2nd base. Vogelaar hit .324 on the year with 7 doubles and 27 RBI's and led the team with 11 sacrifices. One of the top leather flashers in the league, Vogelaar handled 262 chances during her sophomore season, committing just 15 errors in the process, good for a .943 fielding percentage.
Seward's seven selections were second to only league champion Butler who had eight players named to the teams. Barton finished a distant third with four selections and Garden City had three.
Butler Head Coach Doug Chance was named the Coach of the Year while Grizzly pitcher Sydnee Eck was the Freshman of the Year.