Sen. Moran Announces $14 Million in Grants for Kansas Airports
Joe Denoyer - February 19, 2020 4:31 pm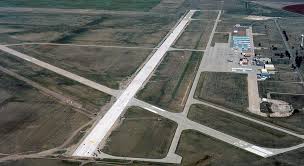 WASHINGTON – U.S. Senator Jerry Moran (R-Kan.) today announced $14 million in grants from the Department of Transportation for repairs, updates and expansions at  Kansas airports.
"Kansas airports are vital to the regional economies throughout Kansas, connecting communities large and small and providing necessary supplies and emergency medical services for rural areas across the state," said Sen. Moran. "These grants will help fund needed repairs and expansions to multiple Kansas airports to continue providing efficient service to Kansans and continued development throughout the state."
In Southwest Kansas these airports received grants:
Garden City Regional airport was awarded $1,726,151 to install pavement markings to enhance airfield safety.
Syracuse-Hamilton County Municipal airport was awarded $600,000 to construct a new hangar.
Meade Municipal airport was awarded $454,639 to install airfield guidance signs.
Cimarron Municipal airport was awarded $450,000 to reconstruct the airport apron and taxi lane.
Ulysses airport was awarded $225,000 to update the airport's master plan.