Sen. Brownback Reads Apology To American Indians
KSCB News - May 19, 2010 12:00 am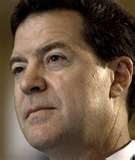 With leaders of 5 tribes in attendance, Sen. Sam Brownback of Kansas has read a congressional resolution apologizing for "ill-conceived policies" and acts of violence against American Indians by U.S. citizens.
Brownback spoke Wednesday during an event at the Congressional Cemetery in Washington, D.C. A Cherokee Nation spokesman says Brownback and U.S. Reps. Jim McDermott of Washington, Lois Capps of California and Mazie Hirono of Hawaii joined representatives from the Cherokee, Choctaw, Muscogee (Creek), Sisseton Wahpeton Oyate and Pawnee nations.
All those nations are based in Oklahoma, except for the Sisseton Wahpeton Oyate, based in South Dakota.
Cherokee Nation Chad Smith told The Associated Press in a phone interview that while most tribes had not necessarily asked for a formal apology from the U.S. government, the gesture was appreciated.