Second Half Struggles Continue for Seward
KSCB News - January 7, 2016 6:49 am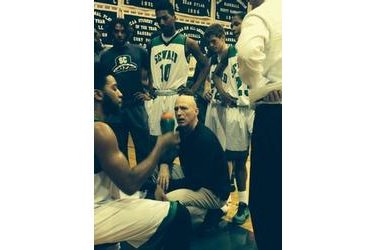 For second consecutive game, the Saints played good defense early and built a lead only to lose the second half and lose the game. Seward led Neosho most of the game, but the Panthers out scored the Saints 13-4 to finish the game and beat Seward 97-89 Wednesday night in front of a shocked Green House crowd. The Panthers out scored the Saints 62-48 in the second half after the Saints led 41-35 at halftime.
Seward led by as many as 10 in the first half. Seward struggled at the foul line going 20-34 while Neosho was 22-27. Neosho out rebounded the Saints 51-36. Ironically, Neosho went on their run to finish the game and take the lead after their two top posts fouled out of the game.
Niem Stevenson becomes Seward 11th player to join the one thousand point club. He scored 29. Charles Beauregard had 23 while Marcus Mathieu had 16 points with five assists and just one turnover.
Neosho moves ahead of Seward in the standings at 12-3 overall and 4-2 in the Jayhawk while Seward has dropped three straight and is 13-4 and 3-3 in the conference. Seward hosts Coffeyville Saturday at 8 on 107.5 and kscbnews.net. McDonald's is the buyout sponsor.