Second Half Slump Sinks Saints
Brock Kappelmann - January 19, 2023 7:13 am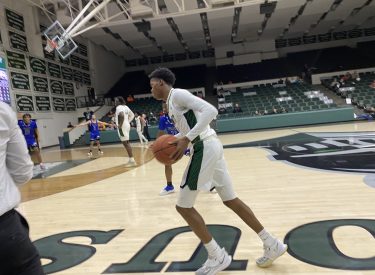 The Pratt Beavers won in Liberal for the first time since 2015 on Wednesday night as they took down the Seward County Saints 85-76 in the Green House.  Seward shot just 35 percent and were 9-36 for 25 percent in the second half.
The Beavers jumped on to leads of 19-10 and 29-14 before the Saints rallied to make it 34-31.  Seward trailed 39-37 with 3:44 to play in the half.  Pratt led 49-46 at halftime.  A Jaylin Henderson three gave the Saints a 59-55 with 12 minutes to play.  Pratt took a 64-63 lead with 8:48 to play and never trailed again.  The Beavers built a lead of 79-67 with 3:18 to play.
Seward shot 35 percent from the field while Pratt shot 41 percent.  Seward was 6-18 from  three and 20-29 from the foul line.  The Beavers were 4-15 from three and 23-28 for 82 percent at the foul line.
Wilson Dubinsky led the Saints with 21 points.  Blessin Kimble returned for the Saints and had 11 points.  Jimmy Sorunke had 10 points and seven rebounds and Jaden Martin had 10.
Seward falls to 5-3 at home and Pratt is 2-5 on the road.  SCCC is 10-9 overall and 6-7 in the Jayhawk.  Pratt is 10-8 overall and 7-6 in the KJCCC.  Seward plays at Butler Saturday at 4pm on 107.5.