Second Half Dooms Aggie Women in Kearney
KSCB News - January 2, 2015 6:34 am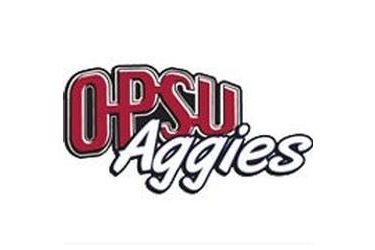 Second Half Dooms Aggie Women
By Justine Gaskamp on 01/01/2015
Kearney, Neb.-The OPSU women's basketball team closed out 2014 with a road
loss to the University of Nebraska-Kearney; the Aggies fell 64-88 to the
Lopers in a tale of two halves.
After shooting 52 percent in the first half the Aggies' scoring took a
drastic drop to 24 percent in the final twenty minutes of play. The score at
halftime was 41-40, advantage UNK. Sade Tutson and Hannah Tatum led the
Aggies in first-half scoring with 13 and 12 points respectively, and OPSU
went board for board with the Lopers, each totaling 17 rebounds at the half.
The Aggies got off to a slow start in the second half, not scoring a basket
until the 15:51 mark while the Lopers' lead continued to climb steadily.
With 12 minutes left to play the Lopers held a 22-point advantage that the
Aggies would not overcome. Second half stats were lopsided as the Lopers
averaged 54 percent and out-rebounded the Aggies 30-13. Tatyana Bell was the
leading scorer for the Aggies in the second half with nine points.
OPSU Coach Charles Terry restated the team's scoring challenges but was
proud of their overall effort saying, "We played hard and competed hard and
I'm proud of that; hopefully we'll get better."
Kearney's Laramey Lewis led in scoring with a game-high 22 points and earned
a double-double with 12 total rebounds. Tutson, Tatum and Bell were the top
scorers for the Aggies; Tutson finished with 18 points, Tatum totaled 15 and
Bell had 13 points. Bell led her team in rebounds with six as well as
assists with three. Tatum and Celci Bakos each brought down five boards for
the Aggies.
The women's basketball game against Lubbock Christian this Saturday has
been postponed but the men are still scheduled to play Dallas Baptist at
3pm. The Lubbock Christian games have been rescheduled for Monday, Jan. 19
at 5:30 (WBB) & 7:30 pm (MBB).
###
Justine Gaskamp