Search Warrant In Texas County Leads To 2 Arrests
Joe Denoyer - August 3, 2016 11:42 am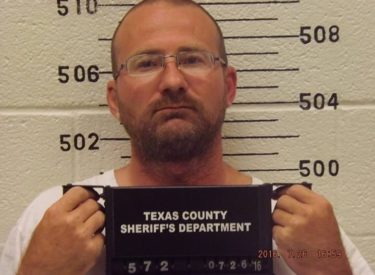 On July 26, 2016, Gordon Donavon Myers, 38, of Goodwell and Tera Lynn Michael, 33, of Guymon were booked into the Texas County Detention Center on drug charges.
At approximately 1151 hours, the Texas County Sheriff's Department and the Goodwell Police Department executed a search warrant for the crimes of unlawful cultivation and possession of the controlled dangerous substance, marijuana at 602 West Elm Street in Goodwell, Texas County, Oklahoma. Myers and Michael were in the residence along with a four year old juvenile male at the time of the search.
A marijuana grow operation was located in a large walk-in closet in the northwest bedroom of the residence. Law enforcement officers found two 3½ foot tall marijuana plants growing in a two planter pots, along with several items that would aid in the cultivation and preparation of the marijuana plants. Other items located in the closet included two small plastic baggies containing marijuana, a pack of cigarette rolling papers, a set of digital scales, marijuana pipes, a marijuana grinder, a "how to grow marijuana notebook" and a utility bill addressed to Gordon Meyers at 602 West Elm Street in Goodwell. Two harvested marijuana plants were found hanging from the ceiling on a plastic clothes hanger in the same bedroom.
Three firearms, one of which was loaded were located during the execution of the search warrant.
The Department of Human Services for the State of Oklahoma was contacted in reference to the male juvenile. A case worker with the department arrived on scene and took temporary custody of the child. The child was later released to his mother.
Bond was set at $10,000.00 each.