Seaman Stymies Liberal at State
KSCB News - May 29, 2015 6:47 am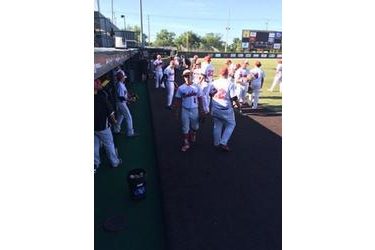 It was a bad matchup for Liberal. Topeka Seaman, who has won seven state championships and been to state 12 straight years beat Liberal 7-0 Thursday night at Eck Stadium in Wichita in the 5A State Tournament. But it wasn't Seaman's tradition that got the Redskins. It was their junior flame throwing junior right hander. Ryan Zeferjohn, who committed to Kansas, was clocked at 95 miles per hour in the first inning. He allowed just two hits in six innings of work as the Topeka school cruised to their 12th straight first round win at state.
The moment may have gotten to the Redskins in the first as they were making their first state appearance in 23 years. Liberal committed two errors allowing one unearned run to starter Cole Evans. The Vikings flexed their muscles in the second with three runs on four hits. Seaman scored single runs the next three innings.
Zeferjohn had command issues giving the Redskins opportunities. They had first and second no outs in the fourth but a Liberal baerunner was picked off first. LHS loaded the bases with one out in the second but Zeferjohn struck out his tenth and eleventh batters to get out of the inning. The Vikings out hit the Redskins 13-2. Cole Evans had both hits. He pitched two innings before Jared Hasik pitched five innings with five strikeouts.
Liberal finishes 18-5. Seaman plays Blue Valley West in the semis after Blue Valley Southwest faces Maize South.