Scrappy Effort by LHS Girls Falls Short
KSCB News - January 4, 2012 7:17 am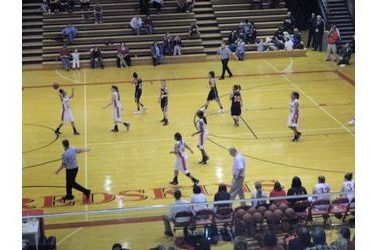 As soon as Justice Norah went down with a season injury in the first half of the third game of the season against Bartlesville, it was a foregone conclusion that Liberal would struggle some this season. You can't take 23 points per game out of the lineup and not feel that effect. But the Liberal girls are at least becoming competitive in games. That was evident Tuesday night in the Big House in a 55-43 loss to Ulysses.
The Lady Tigers (2-4) led by Vermont signee Kaylea Britton jumped to a 24-11 lead. But the Lady Redskins came back to trail just 30-21 at halftime. They cut the lead to four twice in the third quarter (35-31) and 40-36).
However, the Lady Tigers had too much for the Lady Skins down the stretch. Britton scored 18 and Vanessa Monzon scored 12. Jai Chapman led the Lady Skins with 15 while a scrappy effort by Shaquill Bond produced 12 points.
Liberal is 1-5 and travels to Hays Friday night for a game which airs on Talkradio 1270 and kscbnews.net.