Scott County Loses Commissioner, Teacher In Crash
KSCB News - April 24, 2011 8:35 am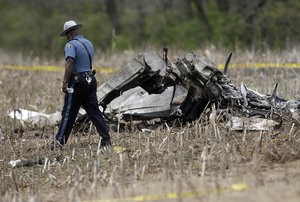 The Associated Press:
Scott County leaders are mourning the death of one of the county's commissioners and a special education teacher who were among four family members killed in a plane crash this week.
35-year-old Dylan Spencer was an active community member who served on the county commission, economic development board and Scott City Municipal Airport board.
He also served more than three years on the Scott City Commission.
Spencer's wife, 34-year-old Amy Spencer, was a special education teacher in Scott City. The couple and their two daughters, 7-year-old Chase and 5-year-old Ansley, were killed Friday when a plane piloted by Dylan Spencer crashed 3 miles north of Topeka.
The family was on its way to Topeka to spend Easter with Amy Spencer's family.