Scott City Takes Two Over Spirited Liberal
KSCB News - April 10, 2015 10:36 pm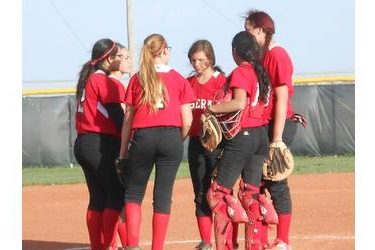 Judging by the noise in the dugout and bleachers, the Liberal softball team is playing and being received with enthusiasm. The LHS girls played their first game at Lady Saints Field Friday afternoon and evening and fans and players cheered their team to the end. But Scott City escaped the LK with a sweep 3-1 and 15-8.
In game one, Sarah Bayouth held Scott City in check until the Beavers plated two eighth inning runs to break a 1-1 tie and win an extra inning game. Dania Silva was 3-4 in the loss.
In game two the Redskins dug themselves a big hole after the tough game one loss. Scott scored five in the first and three in the second to jump off to a good start. Alize Tatum was 3-4 while Jordan Urban was 2-4 with a triple down the left field line. Marina Arenivas doubled in the fifth.
Liberal is 0-6 and plays at Great Bend Tuesday.