Scholarship To Honor Clutter Family
KSCB News - February 17, 2010 12:00 am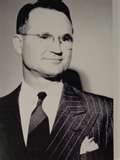 A scholarship is being offered to honor
one of the victims of a southwest Kansas killing that was
chronicled in Truman Capote's novel "In Cold Blood."
The Herb Clutter Memorial Scholarship is named for the father of
a family that was killed in 1959 at their Holcomb farmhouse.
Clutter was a farming leader who encouraged wheat research. Each
year, $500 will be awarded to one incoming freshman from Kansas who
is pursuing a career in agriculture.
The scholarship was created last year by the Kansas Wheat
Research Foundation, which is administered by the Kansas
Association of Wheat Growers.
Scholarship applications are due April 15.