Schmorantz to Continue Her Volleyball Career at Division II Barry University
Joe Denoyer - December 11, 2019 3:24 pm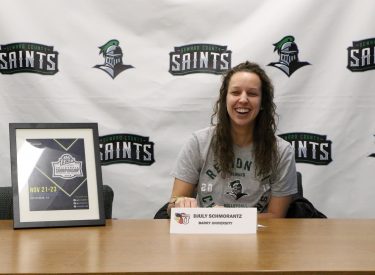 Seward County Community College volleyball player Djuly Schmorantz has signed with Division II Barry University in Miami Shores, Florida.
The sophomore outside hitter from Rio Grande do Sul, Brazil played in all 34 matches this past season including the program's first National Championship match. Schmorantz has been honored with All-Tournament team at Nationals twice, a two-time Jayhawk West All-Conference First team, and a two-time Jayhawk West player of the week during her career at Seward County.
In two years at Seward, Schmorantz had 836 kills on 1819 attempts for a career hitting percentage of .322, along with 622 digs.
Schmorantz will join the Buccaneers, who finished 13-7 in the Sunshine State Conference and 22-12 overall.
The Lady Saints finished the season with a 31-3 recorded and a National Runner-Up finish at the NJCAA National Tournament. The second-place finish is the best in program history, topping the fourth-place finish from the 2018 season.