SCCC/ATS Brings Home 3 Championships
KSCB News - October 5, 2014 8:41 pm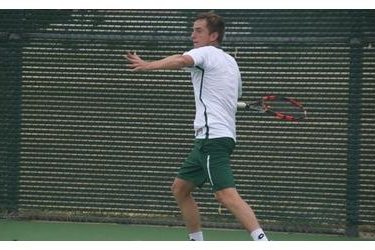 The Seward County Saints finished their 2014 fall tennis season about as good as you could have expected, going 9-6 overall and bringing home three championships at the New Mexico Military Invitational on Saturday.
The Saints opened up play Saturday with an all Seward County final in Flight A singles between Ronzai Saurombe and Vitor Galvao. It was a spirited battle between the two doubles partners before Saruombe snuck out a 15-13, 10-8 win to put another tournament title under his belt.
Seward's star of the weekend was Felipe Casares, who after a pair of wins on Friday, advanced to the Flight B tournament final on Saturday and hammered Brandon Yang of Collin County in the championship match 6-1, 6-2 to claim his first title of his Saints career.
In Flight C action, Christian Kurz earned his first singles win of the year by coming from behind to knock off teammate Xavier Ramirez 3-6, 6-4, 6-2 to wrap up his fall.
It was a full slate of doubles action Saturday where the Saints would play a total of nine matches. Saurombe and Galvao teamed to win a pair of easy matches 8-1 over the University of the Southwest and New Mexico Military to advance to the championship round where they knocked off Yang/Rohstrom of Collin County 8-6 to earn the tournament title. Kurz and Ramirez also showed some promise in doubles action, picking up 8-0 and 8-4 wins over the University of the Southwest and New Mexico Military to work their way to an 11th place finish.
The Saints go 9-6 on their final day of team competition this fall and finish the fall season with a respectable 54-45 overall record.
Saurombe and Casares will officially wrap up Seward play this week as they travel to Sumter, South Carolina to compete at the ITA National Tournament as an at large selection in doubles play. Tournament play begins on Thursday with the finals on Saturday and Small College Super Bowl on Sunday.