SCCC Volleyball NJCAA Tournament Information
Brock Kappelmann - November 18, 2019 12:40 pm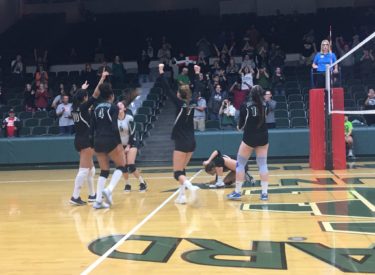 ABOUT THE TOURNAMENT
November 21-23, 2019
Hutchinson Sports Complex
1300 N Plum St, Hutchinson, KS 67501
SOCIAL MEDIA
Twitter:
Facebook:
Seward County Community College Volleyball
Instagram:
Lady Saints heading to Hutchinson
The Lady Saints will take off from Liberal Kansas on Tuesday, November 19th after the Saints Bookstore send off that will be held in the Student Union starting at 3 pm. Come out to the Bookstore and wish the Lady Saints good luck in the National tournament as they head to Hutchinson
Match 1 vs No. 14 Hill College – 9 AM CT
Streaming Prices:
Viewing Party in the Greenhouse at 9 AM with the match broadcasting on to the scoreboards. Come out and support the Lady Saints from Liberal!
MATCH PREVIEW
Earlier this season on August 24th these two teams faced off against each other in the New Mexico Military Institute Invitational. At the time of the match, the Lady Saints was ranked fourth in the nation as for the Rebels they were ranked 12th. The Lady Saints would go on to defeat the rebels in straight sets 25-16, 25-16 and 25-9. A lot has changed since their first meeting with the Lady Saints acquiring Ariana Arciniega, who was just named to the 2nd all-conference team in the KJCCC. In the match, the Lady Saints were led by KJCCC MVP and Freshman of the Year Yanlis Feliz with 17 kills and a hitting percentage of .500.
Hill College's sophomore outside hitter has been named Offensive Player of the year in the Northern Texas Junior College Athletic Conference, Natalie Garcia. Garcia wears No. 1 for the rebels, she is averaging 3.26 kills per set which is 32nd in the NJCAA and is averaging 3.9 points per set which ranks 33rd in the NJCAA.