SCCC Tennis Teams Win Region 6
Brock Kappelmann - April 24, 2018 5:53 am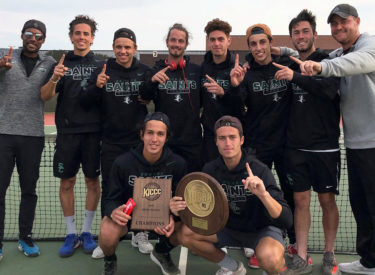 ARKANSAS CITY, Kan. – The Seward County men's tennis program continues to trample through Region VI, winning the Region VI Championship for a fourth consecutive year. Five of the six singles champions were Saints, while two of the three doubles champions were Seward teams. The Saints finished with 25 points followed by Cowley (20 pts), Barton (10.5) and Hesston (3).
Freshman phenom Nick Rousset glided through the No. 1 Singles bracket, winning 6-1, 6-4 in his opening matchup against Hesston's Nadeem Jaber before taking down Cowley's Angelo Tost 6-2, 6-2 in the title match.
2017 Region Champ Duro Opacic made it back-to-back championships sweeping Barton's Yordi Ponce in the first match before taking down Cowley's Bruno Suiama 7-5, 6-1 for his second title.
The No. 3 singles was the long single bracket that didn't see a Saint hoisting the title with Hugo Lobo losing a hard-fought championship match 7-5, 3-6, 5-7 to Valter Oshiro of Cowley.
Tim Lamare picked up his first Region VI Championship in his first season, winning 6-1, 6-0 in the opening round against Hesston's Shoma Tani before taking down Wlayimer Jimenez of Cowley 6-4, 4-6, 6-0.
In the No. 5 spot, top-seeded Carlo Izurieta made minced meat of the competition, beating Jeff Kauffman 6-0, 6-1 before winning the title match against Killian Dagneaux 6-4, 6-2.
After sweeping his opening match against Curtis Oesch, Franck Soulerot won the No. 6 singles title in comeback fashion. He dropped the first set 2-6, but bounced back stronger than ever, winning the final two sets 6-2, 6-1.
In doubles play, the only team to place second was Rousset and Lobo in the No. 1 spot, barely falling to Cowley's tandem of Tost and Suiama 6-4, 4-6, 1-6.
Opacic and Lamare got the Saints back on track with a 7-5, 6-3 title match victory over Oshior and Walitzy after winning their first match 6-1, 6-0.
Finally, in the No. 3 doubles spot, the combo of Finet and Izurieta cut through their competition to Region title. They won their opening match 6-0, 6-3 against Kauffman and Oesch before beating Dagneaux and Edwards of Cowley 6-3, 6-4.
With the win, the Saints have qualified for the NJCAA Tennis Championships in Plano, Texas starting on May 14 at Collin College.
ARKANSAS CITY, Kan. – A year after winning their first Region VI Championship, the Seward County women's tennis team decided they wanted another, winning for a second straight year. Five of the six singles champions were Lady Saints, while two of the three doubles champions were from Seward. The Lady Saints finished with 25 total points, followed by Cowley (19 pts), Barton (14.5) and Hesston (0).
Patricia Panta earned the number one seed in the number one singles spot and did not disappoint. She defeated Lily Wait from Hesston 6-0, 6-0 to advance to the championship, defeating Neus Torregrosa from Barton 6-4, 7-5.
In the number two singles spot, Maria Aveiga took the championship defeating the number four seed Hannah Rosenbaum from Hesston 6-1, 6-1 before taking down Laura Rincon from Cowley 6-2, 6-1.
Alena Macharova kept the winning going for Seward, defeating Cowley's Aletta Macheli 6-1, 6-3 in the number 3 singles championships. Macharova took down Harane Suzuki from Hesston in the first round 6-0, 6-0.
Steffany Bermudez doubled down on Region VI Championships, winning her second straight No. 4 singles title, sweeping both matches 6-0, 6-0.
After handling Hesston's Kaede Nakaden in the first round 6-1, 6-0, Martina Borges fell just short of winning her second straight Region VI Singles title, falling to Margot Fontaine 6-1, 6-0 in the championship.
In the final singles spot of the day, Yusra Hegy came away with the upset victory in the No. 6 spot, defeating the No. 1 seed Coraline Lamer 7-5, 6-3 in the championships after sweeping Thamiers Lima in the first match.
The Panta/Bermudez tandem was no match for the Region, taking down Wait and Rosenbaum of Hesston 6-1, 6-0 before winning a tight 6-3, 7-5 championship matchup against Cowley's team of Vidnere and Rincon.
In the No. 2 spot, the number one overall seed of Machorova and Aveiga ran through the Region, sweeping their first match against Bracknell and Suzuki of Hesston before defeating Rodriquez and Macheli of Cowley 6-3, 6-4 for the Region VI Championship.
Seward's only loss of the day in the doubles came in the No. 3 spot as Borges and Hegy couldn't quite take down Lamer and Fontaine of Cowley, losing 6-2, 6-1 in the title match.
The Lady Saints will be at the NJCAA Women's Tennis Championships on May 6 in Waco, Texas.
[Email Signature]