SCCC Tennis Coach Chase Ashley Steps Down
Joe Denoyer - August 3, 2020 6:59 pm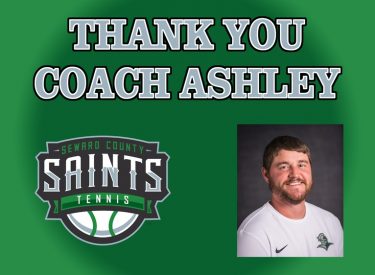 Seward County Community College Men's and Women's Tennis Coach Chase Ashley steps down after five years in the program. Coach Ashley was first hired during the summer of 2015 and was named the Head Coach in January of 2018.
As the assistant, Ashley helped guide both Seward programs to a Top 5 finishes at the NJCAA National Tournament, with the Saints ending in 4th and the Lady Saints in 5th. The Saints and Lady Saints combined for 33 wins in 2016-17, including both winning the Region VI Tournament Championship.
The Women's tennis program under Ashley as the Head Coach had a 26-12 record and won the 2018 & 2019 Region VI Championships. During the 2018 NJCAA Nationals, the Lady Saints placed 6th and a year later placed 8th. The 2019-20 season was cut short for the Lady Saints but they were ranked in the top 10 and we're looking for a late push with an all-freshman roster gaining quality experience.
Under Ashley, the Men's tennis program had a 35-10 record that spanned over the three seasons. The Saints won the Region VI Championship in the 2018 and 2019 season. At the NJCAA National Tournaments, the Saints would claim third place which is still the program's best finish. With the 2020 season coming to an end the Saints were in the top three and a great opportunity to make a run for the national title.
Ashley's programs also had great success in the classroom with the men's tennis team having a team GPA of 3.49 and the women's tennis team had a 3.66 GPA this past year.
The Saints Athletic Department will now look for a new leader of these two top programs and will look to continue the success that Ashley brought to Seward County.