SCCC Set to Compete in Cheer Competition
Brock Kappelmann - March 8, 2020 9:43 am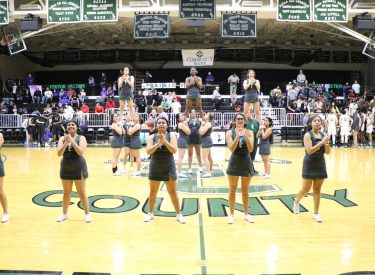 LIBERAL, Kan.- Seward County Community College cheer program will be competing at the Region VI Cheer and Dance competition, held at Barton Community College on Sunday.
This will be the second time that Seward County has competed at the Regional competition and first time competing in the all-girl competition. During the 2017 season the cheer team placed a program-best fifth place in the small co-ed competition and current Head Coach Tate Cain was an assistant coach at that time.
With only three teams (Independence, Pratt, and Seward) registered to compete in the all-girl competition, Seward will place a program-best this weekend.
The Head Coach for Seward Tate Cain discussed the mindset he has instilled in his team as they get ready to compete on Sunday. "I tell them just like the rest of the sports everyone fears Seward and so I have them thinking we are going to come in and be the best team in our division."
Coach Cain talked about the leadership he has on the team this year. "My sophomores are stepping up but even my freshman have stepped up their leadership." Coach Cain continued, "There is not just one leader with this group, there is 15 of them with this group."
The Cheer team has been practicing in the early mornings and late nights in the Greenhouse, and it will pay off on Sunday.