SCCC Rally Falls Short Against #7 Barton
Brock Kappelmann - September 25, 2023 6:09 am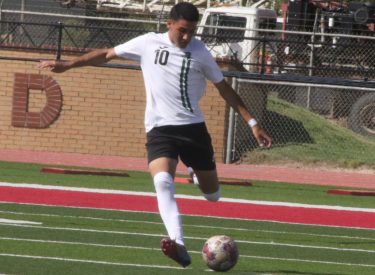 Jay Daubenberger
Liberal, KAN – Seward County men's soccer played their first home game on Redskin Field since August 31st on Saturday afternoon against an NJCAA top ten team in #7 Barton where despite having their highest scoring game of their inaugural season, the Saints were unable to complete the upset as they fell 4-3 to the nationally ranked Cougars.
SCCC started the game strong against #7 Barton as the Saints were able to compete head-to-head with their NJCAA top ten opponent, fighting tooth and nail to force a penalty kick just eleven minutes into the first half that freshman Nate Kelly was able to sink in the left side of the goal to give Seward County and early 1-0 advantage. Barton however was able to respond as they drove down the field and despite an athletic save from freshman Bruno Mestres, the Cougars were able to ricochet the ball off one another straight into the goal to tie things up at 1-1. Seward County held strong through the rest of the first half but could not prevent Barton from creating a lead of their own as the Cougars scored their second goal of the afternoon with just under ten minutes to go in the first to create a 2-1 lead heading into halftime.
Barton came out of halftime firing on all cylinders as they scored their third goal of the game less than eight minutes into the second half to go up 3-1 with another goal three minutes later to increase the score to 4-1. For the Saints their backs were against the wall, but instead of backing down to the top ten Cougars, they fought back and created some offensive momentum of their own as Javier Ruchelli Alverez broke away and drove down the field to score his third career goal to bring the score to 4-2 and spark a fire for Seward County. That fire continued to burn as the Saints kept fighting throughout the remaining twenty minutes and were able to force another penalty kick that Kelly once again sunk into the goal to bring SCCC to within one score with under ten minutes to go. Despite fighting back to cut their deficit to one, the Saints were unable to complete the comeback as they fell 4-3 to the Cougars in their highest scoring game of the season.
Seward County stayed aggressive against their top ten foe throughout all 90:00 minutes of action, attempting nine shots with six of them being on goal. Ruchelli Alverez recorded his third goal of the season while Kelly recorded two off penalty kicks to now bring his total up to three on the year. Mestres was a defensive leader all afternoon for SCCC, recording 11 saves with seven of them coming in the second half to help the Saints climb back.
Men's soccer now falls to 4-4-2 on their inaugural season in 2023 with a conference record of 1-4-1 in KJCCC play. They will now head back out on the road towards Kansas City where they will face off with Kansas City Kanas on Wednesday at 7:30 PM and then Metropolitan on Thursday at 5:00 PM.