SCCC Hispanic Heritage Month Reflects Wider Community
Joe Denoyer - September 25, 2018 11:27 am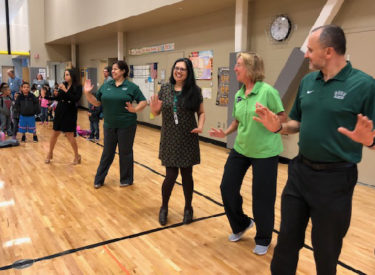 by Rachel Coleman
Multicultural Fashion Show scheduled for Oct. 14
Hispanic Heritage Month observances at Seward County Community College began Sept. 15, and will continue through Oct. 15 with a wide variety of activities designed to offer a little something for everyone.
"As a Hispanic Serving Institution, the month is an important one for us because it provides a platform to affirm the cultural context of many of our students," said college president, Dr. Ken Trzaska. "It's not just for Hispanic students, though, because the community itself reflects that heritage and flavor."
As part of the wider community, SCCC's month of celebration has incorporated a variety of partnerships. Working with Humanities Kansas, Humanities Texas, the Cinco de Mayo committee, Baker Arts Center, and USD 480, the college encourages all in community to join Hispanic Heritage Month events.
The photo and history exhibit "Cesar Chavez: In His Own Words," sponsored by the SCCC Library, is currently on display throughout the library, Hobble Academic Building, and Shank Humanities Building. The photos document the American migrant worker movement of the 1960s, continuing through today, with quotes and inspiration from Chavez.
"Preservation of one's own culture does not require contempt or disrespect for other cultures," he observed.
SCCC librarian Lindsay Tuman said the exhibit offers many such quotable remarks, and far exceeds her expectations.
"I knew we'd have to find plenty of display space, but when we unpacked the crates, I was thrilled and a little nervous," she said. "We've placed maps in the display areas so that patrons can find their way. I hope they take the time to view it all, as it is a worthwhile opportunity."
Other highlights of the month include a discussion panel with Hispanic journalists, assemblies at local schools and campus life events.
One notable connection lies in the HALO club screening of the film "Frida," chronicling the life of Mexican artist Frida Kahlo. Students and the public can learn more through a photo exhibit currently on display at Baker Arts Center, 624 N. Pershing Ave., which provides an intimate look at Kahlo's life and relationships.
Hispanic Heritage Month will conclude with a colorful, lively, multicultural fashion show from 3-5 p.m. Oct. 14 (a Sunday) at the SCCC Showcase Theater. The event, organized by SCCC adviser and Cinco de Mayo committee member Janeth Vasquez, will feature a DJ, prizes, and plenty of fun for all ages.
"We want this to be a celebration of Hispanic culture, but also open it to other cultures," said Vasquez. "I'm hoping we see parents, grandparents, children, traditional costumes, even costumes of favorite singers or public figures." Vasquez, who idolized singer Selena Gomez as a child, said she hopes this event will provide a similar outlet for Hispanic youth.
"Seeing people celebrate who they are, their identity, their dreams, is really powerful," she said.
To participate in the free fashion show, contact Vasquez at 620-655-0408.