SCCC, DCCC, and GCCC Presidents Meet, Discuss Eco-Devo, Innovation
Joe Denoyer - November 15, 2019 3:32 pm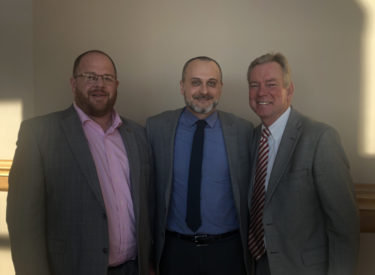 Rural development and prosperity depend on collaboration, and locally-driven workforce education through community colleges. That was the message voiced by presidents from three community colleges in Southwest Kansas at the Rural & Independent Innovators Conference Nov. 13 and 14 at Boot Hill Casino and Resort Conference Center Center.
Kansas Small Business Development Center (KSBDC) staged the event, led by Maria Dennison, director of the regional office based at SCCC. Nearly 100 people attended the conference, which focused on practices and resources for individuals and businesses, sources of funding and networking. A president's discussion panel featuring explored the transformation of higher education to meet workforce demands and student expectations.
"What is innovation? It's really about behavior and attitude toward the mission," Trzaska said, pointing to the unique role of locally-controlled, two-year institutions.
As entry points to higher ed for groups of people who are place-bound or who encounter other barriers to college access, community colleges provide transformative energy to the region and its people.
"Workforce innovation relies on meeting students and industry where they are at," he said. Examples at SCCC include GED completion, internships and stackable industry credentials, continuing education, online pathways to associate's degrees and transfer agreements with four-year institutions, and a fledgling resident firefighter program. All these and more aim to "meet students at their point of need," Trzaska said.
DCCC's Nolte affirmed the power of being part of the local community.
"It's all about partnerships," Nolte said. "When we see an organization struggling, we put our arms around them." DCCC has employed this approach in terms of health care partnerships with Western Plains Medical Complex, diesel program partnerships, and attention to construction and child care needs in its service area.
The same is true in Garden City, said Ruda, where "the expectation from the community is that we will address its needs." He pointed to an innovative partnership with John Deere tractor equipment as a prime example.
At all three institutions, programs continue to push forward with fresh ideas about working with local school districts, national industry partners, and regional needs.
Nolte acknowledged that while some might see rivalry, the colleges aim to complement each location's strengths.
"We're competitors on the athletic fields, but we're also friends," Nolte said.
Collaboration served as an overall theme for the RIIC conference.
"KSBDC developed this model to … assist independent innovators and businesses anywhere in the state, especially rural areas, who lack the support of a developed research program," Dennison stated. "There's a tremendous amount of talent and vision and experience available in this room."
Among the attendees were biofuels developers, distillery owners, economic development directors, inventors, "maker space" lab managers from rural communities, as well as Kansas Secretary of Commerce David Toland.
SCCC's Trzaska said the event embodied the power of community-based development and career-tech education.
"The conversation around community colleges in Kansas is at the forefront of how we move forward in terms of the whole state," he said. "It's not unlike the growing awareness that education must take into account the whole student, not just the test scores. Community colleges, which serve rural communities and first generation students, are the secret powerhouses that will produce the next generation of grassroots leadership and innovation."