SCCC Cosmetology Program Makes the Top 20 in Nation
Joe Denoyer - August 23, 2018 10:09 am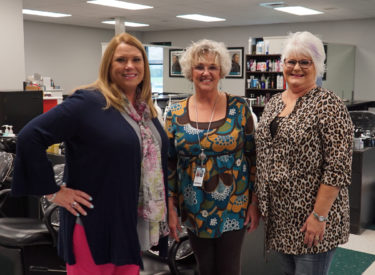 Fans of the SCCC Cosmetology Salon already know we've got a good thing going on campus. Now, the rest of the world has weighed in to agree. The SCCC Cosmetology Program made the list of the Top 20 Cosmetology & Beauty School programs in the nation.
A spokesperson for EDsmart explained, "The schools that made our list not only provide high quality programs foreducation and career advancement, they also offer high quality beauty school classes available to the public at prices people can afford. The costs at these schools make attending college a possibility for most everyone. In addition, most of these schools offer additional financial aid by way of scholarships, fellowships, and loans."
EDsmart, a publisher of college resources and rankings, includes only fully accredited schools that offer cosmetology, barbering, nail tech or other beauty school programs. Rankings are based on academic quality and affordability.
Schools that made the list include (in alphabetical order):
Albany Technical College
Atlanta Technical College
Bridgerland Technical College
Clovis Community College (New Mexico)
Crowley's Ridge Technical Institute
East Central Community College
Georgia Northwestern Technical College
Jones County Junior College
Moore Norman Technology Center
Oconee Fall Line Technical College
Ogden-Weber Technical College
Pioneer Technology Center
Seward County Community College
South Georgia Technical College
Southeastern Technical College
Southern Regional Technical College
Southwest Technology Center
University of Arkansas Community College-Batesville
West Georgia Technical College
Wiregrass Georgia Technical College