SCCC Cheerleader Colbert Signs at William Penn
Brock Kappelmann - May 9, 2018 1:35 pm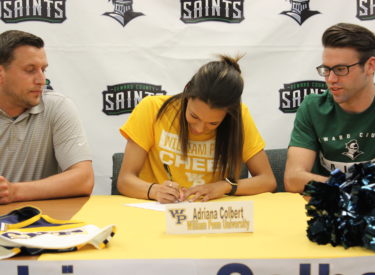 LIBERAL, Kan. – Seward County cheerleader Adriana Colbert signed with William Penn on Tuesday in the All-American Room to continue her cheerleading career with the Statesmen. She becomes the first cheerleader to sign on to a four-year school under new Head Coach Chad Butler.
"Adriana is an extremely hard worker," Butler said. "She has a passion for cheerleading and that passion manifests itself into a dedicated athlete. William Penn is getting an athlete that will put the team ahead of herself and will do anything she can to make herself and her team better."
Colbert will cheer for Head Coach Abby Reynolds, who will be entering her second year as the first full-time cheer and dance coach in Statemen history.
Ian Applegate