SCCC Broadway Revue to Begin Thursday
Joe Denoyer - April 22, 2021 1:02 am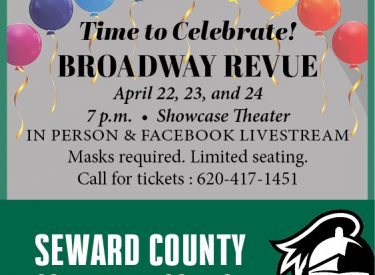 By Phil Lee
After being dark for over a year, the Seward County Community College Showcase Theater will once again reverberate with the sounds of song and music.
The SCCC Humanities Department will present a "Broadway Revue" for three performances this Thursday through Saturday at 7 pm in the SCCC Showcase Theater.
Students and community members will perform songs from popular Broadway plays and musicals such as Hamilton, Guys and Dolls, Sweeney Todd and Les Miserables.
Tickets are free and still available, but seating capacity is limited due to COVID-19 protocols. The performances will be livestreamed on the SCCC Humanities Facebook Page. For more information, contact Terri Barnes at (620) 417-1451.