Sautter to Serve Week Long Suspension
Brock Kappelmann - January 28, 2019 4:49 pm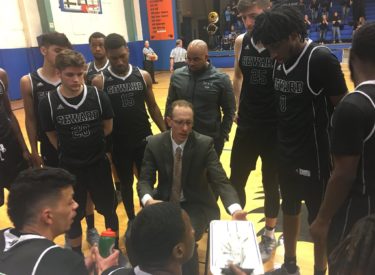 LIBERAL, Kan. – Seward County Community College athletics has appointed assistant men's basketball coach James Barrett as interim head coach, following a weeklong suspension with pay of head coach Jason Sautter due to a violation of College policy.
"At SCCC, the core values we espouse were identified by the entire campus team in 2015 – trust, integrity, valuing others, student success, and quality," said SCCC President, Dr. Ken Trzaska. "As we have all experienced in our own lives, finding the right balance to achieve those aims is a lifelong process. Our goal is to encourage growth and stability for both student-athletes and coaches, and this shift, we hope, will move that goal forward."
The men's basketball team (17-4, 10-2 KJCCC) is sitting in first place in the Jayhawk West and ranked 13th in the NJCAA. The 2018-19 season is Sautter's second at the helm. Barrett joined as assistant in June 2018.
Athletic Director Mike Davidson said all coaches must work to balance the quest for excellence with the human relationships essential to cultivating team spirit.
"Sports bring out strong feelings, but at the end of the day, we want to encourage our student-athletes to be their best," he said. "The guys are having a great season, and it's important to keep the momentum in a healthy way. I know James will do a great job as interim coach."