Sautter Steps Down as Seward Coach
Brock Kappelmann - April 21, 2021 2:17 pm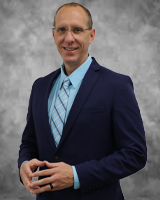 After four seasons as head coach, Jason Sautter has resigned as head basketball coach at Seward.  Sautter informed his team of his decision on Sunday night.  Sautter's Saints finished 8-10 on the floor in a Covid shortened 2021 season.  They were 8-13 officially after they were forced to forfeit three games after players and Sautter left the bench area after Seward's 95-94 double overtime loss February 17 against Dodge City.  Seward suspended Sautter an additional three games.
Sautter returned to Seward to coach the 2017-18 Saints.  The freshman oriented team was 18-14 and 13-13 in the Jayhawk.  The 2018-19 Saints broke through winning the Jayhawk West and the Region 6 championships.  That team was 28-6 and went 18-3 in the Jayhawk West.  The Region 6 title was just the school's sixth in their 52 year history.  The Jayhawk West title was the 10th.  The 2019-2020 Saints were again a young team and went 17-14 and 10-11 in the Jayhawk West.
Sautter was an assistant under Bryan Zollinger for the 2012 and 2013 seasons.  The Saints won the Jayhawk West both seasons and claimed a Region 6 title in 2012 and finished third in the NJCAA Tournament.  The Saints won 56 games during those two seasons.
After leaving Seward, Sautter joined UMKC's coaching staff from 2013-15 before coaching the professional Rocherster Razorbacks to a title.
Before coming to Seward as an assistant, Sautter was head coach at West Texas in Snyder had a 55-30 record in three seasons.  Sautter assisted Texas Tech head coach Mark Adams at Howard and had a 112-23 record during that time.
Seward's men's program reached unprecedented levels in the classroom under Sautter.  The Saints held a 3.25 GPA in 2020.
Seward will begin a search for their next head coach.  Sautter had been just Seward's fourth coach the past 38 years.  Dale Reed coached the Saints from 1983-1996. His assistant Dave Brown took the SCCC position and coached the Saints from 1996-2007.  Former Saints player under Reed and Brown, Bryan Zollinger, coached Seward from 2007-2017.  Sautter, Zollinger's former assistant, coached the Saints from 2017 to 2021.