Saurombe Repeats at Metro State Singles Champ
KSCB News - September 23, 2014 6:38 am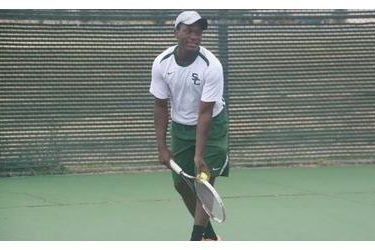 Seward County's Ronzai Saurombe is starting to run out of room in his trophy case and Sunday afternoon in Denver, Colorado, that already limited space got a little bit tighter as the sophomore outdueled a field of NCAA Division I and Division II talent to capture his second straight titles in singles and doubles at the Metro State Invitational Tournament. Saurombe finished the weekend a perfect 7-0 while Vitor Galvao was 5-1 for the Saints.
The Saints sent Ronzai Saurombe and Vitor Galvao to the draw in the Flight A singles bracket. Saurombe was solid on day one, knocking off Nico Carpenter from Air Force 7-6 (6), 6-3 and battling to the end against Jordan Lyden from Colorado Mesa to win 7-6 (4) 5-7, 7-5 in an epic four hour battle to reach the semis. Galvao had an easy time against Jason Gutierrez of Colorado College in his first match, winning 6-4, 6-1, but fell in his second match of the day 6-4, 7-5 to Nick Baker of Metro State. Saurombe's semifinal match pitted him against Josh Graetz of Metro State and the Seward sophomore knocked Graetz out of the tournament on his home court with a 7-5, 7-5 win to reach the finals for the second straight year. In the final Saurombe played another close one as he looked to avenge Galvao's earlier loss to Metro State's Nick Baker. Saurombe lost a tough 6-7 (5) decision in the first and then gutted out a 7-6 (4) win in the second set. In the tiebreaker it was all Saurombe as he blasted Baker, a 2014 2nd Team All-RMAC performer, 6-0 to claim the Flight A championship for the second straight year.
Seward had their struggles everywhere else in singles action as Felipe Cesares and Des'mne Curtis picked up the Saints only wins in 16 tries in the Flight B, C, and D draws. On Saturday Cesares knocked off Josh Hedderigg from Montana State-Billings 6-4, 6-2 in the consolation bracket of Flight B while Curtis won a 6-2, 6-1 backdraw match Sunday against Casey Shaw of Colorado College.
Saurombe and Galvao teamed up in Flight A doubles for the Saints, as Seward looked to capture its second straight championship in that event after Saurombe and Alejandro Gonzalez did the trick a year ago. The duo got off to a good start, beating Fryer/Lovera of the University of Denver in the first round 8-3 before slipping by Metro State's top pair in Graetz/Baker in the second round with an 8-5 decision to reach the semis. In their only doubles match of the day Saturday, Cesares and Curtis fell 8-2 to Louhnan/Jacob from the University of Northern Colorado to be eliminated from doubles contention. On Sunday Saurombe/Galvao picked up another win against an NCAA Division I school, downing Finerty/Sheldon from Northern Colorado 8-4 to reach the championship round where they were given a forfeit win to take home the title.
In the Flight B draw, Christian Kurz and Xavier Ramirez picked up a doubles win for the Saints as they buried Peterson/Benham of Colorado College 8-1 to reach the quarterfinals where they would later fall to Stember/Hayes of Metro State 8-3 to end their tournament in 5th place.
Seward finished the tournament with a 13-17 overall record as a team, while posting a 9-2 record in Flight A draws.
METRO STATE INVITATIONAL DAY ONE RESULTS<http://www.sewardsaints.com/sports/mten/2014-15/files/MetroMen-s1.pdf>
METRO STATE INVITATIONAL DAY TWO RESULTS<http://www.sewardsaints.com/sports/mten/2014-15/files/MetroMen-s2.pdf>
Competition will remain tough for the Saints this weekend as they travel to Oklahoma City, Oklahoma to take part in the 2014 ITA Regional Tournament. The three day event will send one singles player and one doubles team to the ITA National Tournament in Fort Myers, Florida in October.
For the second straight year, Seward County's Paula Lopez and Paula Coyos painted the Metro State Invitational Tournament in Denver, Colorado completely green and white. A year after combining to go 10-0, winning tournament titles in both singles and doubles in the Flight A draw, the duo repeated, each reaching the finals in the top draw, where they shared the singles championship before blowing away the competition in the Flight A doubles draw to win their second straight title there as well.
To put it quite simply, the Lady Saints dominated the Flight A draw of the tournament. Paula Lopez breezed to a pair of wins on day one of the tournament, drilling Jade Goodyear of Montana State-Billings 6-0, 6-1 in the first round and Katie Kirby of Colorado Mesa 6-2, 6-3 in the second round to easily reach the semifinal round. Paula Coyos followed suit, winning a 6-1, 6-2 decision over Fiona Cerf of Colorado College in her opening match before taking a three setter 6-4, 4-6, 6-3 over Courtney Wright of Metro State to make her way to the semis. In the round of four Lopez picked up a 7-5, 6-2 win over Patricia Maya of Colorado State-Pueblo to reach the finals and Coyos took care of business on the other side of the bracket, downing Sierra Strapper of Air Force 6-4, 6-0 to make it an all Seward County final for the second straight season. To conserve their energy for doubles play, the duo once again chose to split the tournament title as co-champions.
The Lady Saints struggled in Flight B play, losing all four matches on day one of the tournament. On Sunday though, Jackie Arnold was able to pick up a 6-3, 0-6, 10-7 win over Gillian Hyde of Colorado College to put the Lady Saints on the board in the B bracket.
In Flight C action Seward had trouble getting anything rolling as well, going 0-5 while winning 1 or less games in 9 of the 10 sets.
Lopez & Coyos teamed up to try to defend their 2013 tournament title in the Flight A doubles bracket. They got off to a hot start, blanking Vujosevic/Love of Metro State 8-0 and moved on to the semifinals with an 8-1 breeze over Cerf/Edman of Colorado College. In their semifinal match they took on Patenko/Hatcliff of NCAA Division I Air Force, hammering them 8-2 to advance on to the finals. In the finals the Lady Saints took on another Air Force duo as they went toe to toe with Strapper/Beachy. It was another lopsided win for the Seward pair as the Argentinian's easily defeated the freshman pair for the Falcons 8-2 to bring home their second straight Metro State Invitational Championship.
The Lady Saints had two other doubles teams in action, but both failed to win their opening match.
Overall on the weekend the Lady Saints finished 11-13 as a team, getting a 10-0 showing from Lopez and Coyos in Flight A action.
METRO STATE INVITATIONAL DAY ONE RESULTS<http://www.sewardsaints.com/sports/wten/2014-15/files/MetroWomen-s1.pdf>
METRO STATE INVITATIONAL DAY TWO RESULTS<http://www.sewardsaints.com/sports/wten/2014-15/files/MetroWomen-s2.pdf>
The Lady Saints will now turn their sights to the ITA Regional Tournament on Friday in Oklahoma City where they will compete for a chance to qualify for the 2014 ITA National Tournament in Fort Myers, Florida in October.