Sauer promoted to Major of KHP
Steven Rains - July 8, 2019 5:28 pm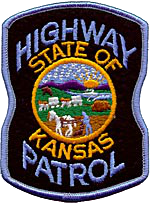 Colonel Herman T. Jones, Superintendent of the Kansas Highway Patrol, announced that Captain Eric Sauer has been promoted to Major, and will now oversee the west region, which includes Troops C, D, E, F and Emergency Operations.
Sauer began his law enforcement career in 1991 with the Riley County Police Department as a police officer after graduation from the Kansas Law Enforcement Training Center. Sauer is a native of Cimarron, KS, and a 1987 graduate of Cimarron High School. He later received an Associate degree in criminal justice from Seward County Community College in 1989 and his Bachelor of Science degree in criminal justice from Washburn University in 1991. Sauer is a 2011 graduate of the FBI National Academy Class #247 in Quantico, VA.
The Patrol congratulates Major Sauer on his promotion, and wishes him the best in this position.