Saturday Night at Emmanuel Southern Baptist Church
Joe Denoyer - September 11, 2018 5:26 pm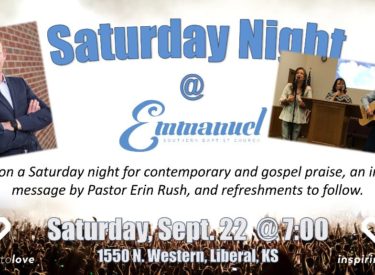 Emmanuel Southern Baptist Church is hosting its second community-wide praise and preaching event called Saturday Night at Emmanuel on Saturday night, September 22nd, at 7:00 p.m.
Join us for contemporary and gospel praise, an inspiring message by Pastor Erin Rush, and refreshments to follow. 
Please join us free of charge at 1550 N. Western in Liberal. 
For more information about Emmanuel, go to www.esbc.church.  Or listen to Inspiring to Love—the radio ministry of Emmanuel Southern Baptist Church on Talk Radio 1270 KSCB or KSCB.net on Sunday nights at 6:00.