Satanta Football Player Returns Home
KSCB News - November 4, 2013 4:51 pm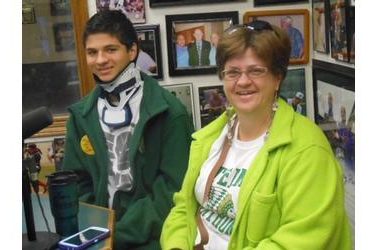 Satanta freshman football player Anthony Crump returned to his team Thursday night. Crump watched as the Indians won their final game. It was the first time he had been on the field where he suffered paralysis and a severe spinal chord injury September 6. Friday, Anthony and his parents made their way to Broadcast Square for interviews. Crump is walking now and says he never had any doubt.
"Ever since I was laying on the field and I started praying just to calm down, I was thinking I would get to Chicago and be there a month when they were saying three months in Chicago. I was just trying to get over there, get better, and go home. I never thought I would never walk again."
His mother Jeanette Crump says his rehabilitation at a Chicago hospital was inspirational.
"He was just amazing," Jeanette said during Friday's Live From Broadcast Square with Joe Denoyer. "Through all the pain it was so hard on me to sit there and watch him be in that much pain and watch him try over and over to try to make his hands work or try to take a step. He never complained. There were a couple of times he said I can't do that. But he would try it anyway. And he had to try something over and over again to make that hand work or to make that foot work and he never complained."
Jeanette says it's doubtful he could ever play football again but she also says, doctors told him he wasn't supposed to be able to walk again either so anything is possible.