Sam Henderson Signs at Harding
Brock Kappelmann - April 21, 2021 1:38 pm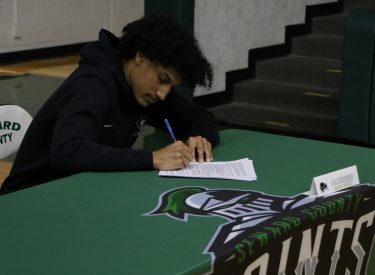 Kenny Hernandez
LIBERAL, Kan. – Seward County Community College honored sophomore Sam Henderson on his signing to Harding University to continue his academic and basketball careers. Henderson has been an outstanding student-athlete and has left his mark on the men's basketball program.
Henderson has been with the team for the past two seasons with a career average of 8.8 points, 1.8 assists, and 2.5 rebounds per game. During his 2021 campaign, he has was in a starting role and had his best season with 13.3 points per game, shot 45% from the field, and had 3.6 rebounds per game.
Henderson also excelled off of the court as he was named to the Seward County Phi Theta Kappa chapter in the fall of 2020 and last month he was named to the All Kansas Academic Team for his success in the classroom. In the fall Henderson was selected to join the NJCAA Student-Athlete Council where he met with fellow athletes across the nation to discuss ways to improve the student-athlete experience in the NJCAA.
In his time here Henderson has shown his ability to grow as a student in the classroom and as a player on the court. Henderson will be an outstanding contribution to Harding University not only on the court for the Bisons but on campus as well.