Salina South Shocks Liberal
Brock Kappelmann - January 20, 2017 7:28 am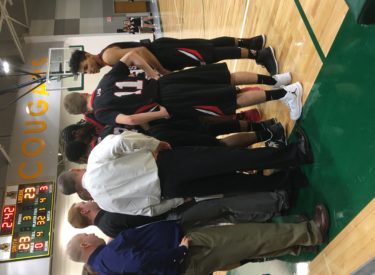 Liberal will not win the Salina Invitational Tournament. Seven seed Salina South beat #6 Liberal 48-43 at Salina South Thursday night. It's the Redskins second loss in three games and their second loss in three games to a team with a losing record.
The Cougars won despite making six of 15 free throws and four of 18 three pointers. The Redskins were 7-14 at the foul line and 2-10 from three. The Redskins were 17-45 from he field for 38 percent. They missed multiple lay ups.
Kylan Thomas had 14 points and 10 rebounds. Cade Hinkle had 13 and Deladris Green had seven points but 11 rebounds.
The Cougars led 11-9 after one quarter and 29-17 at halftime. It was 28-27 South after three. The Cougars led by as many as seven at 30-23 and 45-38 with 1:15 to play. LHS cut the lead to two (45-43) with the ball with 30 seconds left but threw the ball away. They fouled Salina South who made two free throws.
Liberal is 8-2 and plays Goodland at 4:45 at Kansas Wesleyan on 1270 and kscbnews.net.