Sales Tax Holiday Offered In Oklahoma
KSCB News - August 6, 2009 12:00 am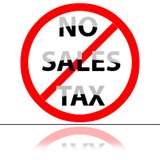 Oklahoma businesses will be lifting the sales tax and participating in a sales tax holiday August 7-9,.
According to the Oklahoma Tax Commission Web site, "the sales tax holiday is a period of time when retail sales tax are not collectible or payable on a specific class of purchases."
The items that are part of the sales tax holiday are any piece of clothing or footwear that has a sale price of less than $100. Items that are not part of the sales tax holiday include food, school supplies, jewelry, handbags, luggage, umbrellas, wallets and watches.
All retailers that sell clothing or footwear are required to participate in the sales tax holiday and cannot charge tax on items that are tax-exempt.
Not only will the consumer benefit from the sales tax holiday, but so will the retailer. The retailer will be helped by the boost in the economy and the consumer will be helped when they save money on clothing and shoes.