Saints Win Wild One with Clarendon
Brock Kappelmann - March 16, 2022 12:54 pm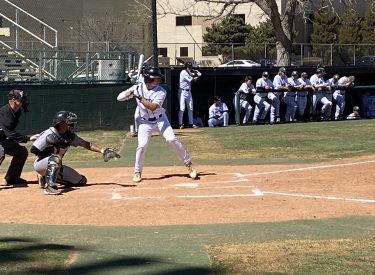 Seward rallied to beat the Clarendon Bulldogs 15-13 Tuesday afternoon at Brent Gould Field.  On a sun splashed day with temperatures in the upper 60's and light winds, Seward gained a much needed win after losing all four games to Dodge City last weekend.
Clarendon led 3-2 after two.  The Saints scored three in the third to lead 5-3.  That lead stood until the Saints sputtered defensively in the sixth coughing up six Clarendon runs.  The Bulldogs added three more in the top of the seventh for an 11-6 lead.  The Saints struck for six in the bottom of the seventh to grab an 12-11 lead.  Clarendon tied the game in the eighth with a run.  SCCC plated three in the bottom of the eighth for a 15-12 lead.
The Saints won the game despite six errors.  Luke Williams was 2-2 with a home run and three RBI.  Jaxson Gregg was 2-2 with three RBI's.  Jordan Crowder was 3-4 with three RBI's.  Ranse Radtke and Jase Schneider scored three runs a piece.  Chance Helton pitched two scoreless innings in the win.
Seward is 7-18 and Clarendon is 5-12-1.  Seward plays at McDonald Stadium in El Dorado against Butler Thursday at 11 on 1270, 92.3, and the KSCB and The Legend App.   The game has been moved up due to expected rain later in the day in El Dorado.  The Dugout Show begins at 10:45.