Saints Win Third Straight
Brock Kappelmann - January 16, 2020 7:10 am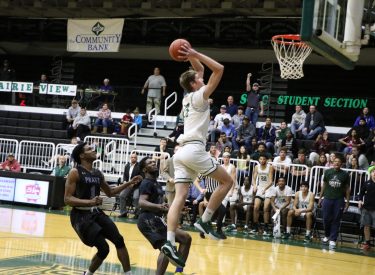 Kenny Hernandez
LIBERAL, Kan.- Seward County's men's basketball team fought back to tie the game at halftime, then took a 13-point lead in the second half but edged out Pratt Community College in the final seconds to win 68-63. The Saints win their third game in a row to improve to 11-7 overall and ties Pratt for fourth place in conference play at 4-5.
In the first half, the Saints would struggle from the field and the Beavers would take a 27-18 lead with 3:40 left in the half. Seward County responded with 12-3 run to close out the half with Surakata Jawara, Ramiro Santiago, and Samuel Henderson connecting on three straight threes during the final three minutes. Both teams shot above 50% from behind the three-point line.
The Saints came out of the locker room and went on an offensive explosion going on a 21-7 run, to lead 51-37. This is the largest lead of the game for either team, but the Beavers responded with a run of their own with a barrage of threes. Pratt responded with a 25-9 run to reclaim the lead at 62-60 with 3:13 left. For the fifth straight game, the Saints were in a one-possession contest entering the final minute of the game.
Henderson gave Seward County the lead 64-63 from the free-throw line and came up with a stop defensively to reclaim possession with 46 seconds left. After running the shot clock down to three seconds, Seward County inbounded the ball to Kyle Cardaci that connected on a short corner jump shot to give Seward County a 66-63 lead with 18 seconds left. After a Beaver three-point attempt Greg Johnson came down with the defensive rebound and got fouled immediately, then connected on the double-bonus free-throws to clinch the game.
Pratt was led by Deontae Davis with 19 points, and 8 rebounds. Jamel Horton with 15 points and Zool Kueth with 14 points were the other Beavers in double-digits.
Seward was led by Rostyslav Novitskyi with 18 points and 6 rebounds. Ramiro Santiago would contribute 15 points on 3-5 from behind the three-point line and 6-8 from the free-throw line.
Saints are back in action at Dodge City Community College on Saturday and will tip-off at 3 PM.