Saints Win Oz Fest Classic
KSCB News - October 5, 2013 7:27 am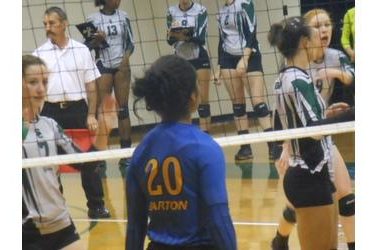 Seward won all four of their matches in the Oz Fest Classic in what they hope will be the turning point of their season. Seward beat Western Texas Saturday afternoon (23-25, 25-13, 25-17, 13-25, 15-8) and then defeated Vernon (25-21, 25-20, 21-25, 23-25, 15-11).
The Seward volleyball team won two hard fought volleyball matches Friday as part of their Oz Fest Classic in the Green House. Friday afternoon, Seward beat Barton 3-1 in a conference match. Seward won (19-25, 25-23, 30-28, 25-23) to go to 6-2 in the Jayhawk West while the Cougars fall to 3-5. Carolina Gasparini had 17 kills while Annalise Sanchez had 10 kills. Nicole Miller had 10 assists.
In the nightcap, Seward won 3-2 over Frank Phillips. Seward beat the Plainsmen (25-23, 25-19, 24-26, 23-25, 15-13).
The Saints are 17-11 overall and host Hutchinson Wednesday night at 6:30 in the Green House.