Saints Win Jayhawk West 11th Time in 15 Years
KSCB News - April 26, 2015 8:11 am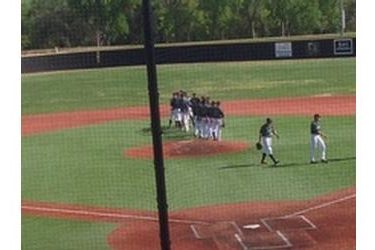 The Seward County a Saints clinched another Jayhawk West championship Saturday. Seward swept Barton at Lark Park in Hays 9-7 and 12-5. The Saints have won 11 Jayhawk West titles in the past 15 years. It's Galen McSpadden's 16th Jayhawk West title.
The games were played about an hour away from Barton's campus in Great Bend due to rain. They played at alarms Park in Hays where the two teams actually met in 2009.
In game one, Seward rallied from deficits of 5-1 and 7-5 to win 9-7. JB Olson is 9-3 after pitching 6.3 innings. Jakob Hernandez pitched two thirds for the save. Seward scored in the first when Brandon Rix doubled home a run off the wall in right. Barton's Lance White hit a grand slam in the first propelling the Cougars to a 5-1 lead. Seward scored two in the third when Brent Williams and Dillon Drury provided RBI singles. Seward tied it with Alex White's sac fly and Brandon Urquizo's fourth homer. Barton answered with two in the fourth. The Saints scored two in the sixth to tie when Drury and Justin Graff-Rowe whacked RBI singles. Williams seventh inning single gave Seward the 8-7 lead and Drury was hit by a pitch with the bases loaded to make it 9-7. SCCC out hit Barton 16-9 in the win. They scored seven of their nine runs with two outs.Brandon Rix was 4-4.
Seward hit five homers in game two. Hayden Howard (6-2)pitched six innings for the win. Nathan Dockery went three innings. Seward scored two in the first when Drury grounded out but drove home a run and Graff-Rowe doubled home a run. Barton tied it with runs in the first and second but in both innings loaded the bases with no outs. Seward scored three in a memorable third when Williams, Rix, and Drury hit three consecutive homers on three swings to make it 5-2. It was Rix's first homer of the season and Drury's seventh. Seward scored two in the fourth to make it 7-2 when Williams doubled and scored on a wild pitch and Rix drove home another run. Seward scored an unearned run in the fifth as White provided the RBI single. Williams hit his second homer of the game to lead off the sixth for his 10th of the season. Chad Kennedy hit a three run homer for Seward in the seventh for his third of the year.
Seward is 32-20 and has won 20 of their last 23 and 12 straight conference games. They are 21-9 in the Jayhawk West. Barton is 24-25 and 14-16. The same two teams will play Sunday at 1 in Great Bend on 1270 and kscbnews.net.